I grew up in Truckee, California. Perhaps surprisingly, coffee shops weren't a big part of my life as a youngster in this town. My experience was mainly limited to the one coffee shop within walking distance of my high school (we had off-campus lunch, which was sweet!). But then I started freelance writing and working for myself from my computer. I couldn't do all of that work from home, especially when I was still living with my parents. So I began extensive marketing research to find the best coffee shops in Truckee. 
Today, I'll tell you which spots I prefer and why certain coffee shops are better for certain things than others. I hope you enjoy and find this article useful next time you're planning a trip to Truckee! 
Side note: Please take some time to learn about us and understand why we've created this site. We are always on the lookout for new opportunities and we believe in the power of win-win situations to improve life on this planet for all! Please don't hesitate to Contact Us if you have any questions or want to talk about how our future plans may align.
Best For Work and Best Coffee: Dark Horse Coffee Roasters
I started with this category because it is the main reason why I visit coffee shops. If I'm going to sit down somewhere for multiple hours to check tasks off my list, I need good Internet and comfortable seating. It's also important to me that the atmosphere is conducive to productivity. Dark Horse has the right balance of lighting, ergonomic seating, and warmth. 
Now, I'm not a Wi-Fi expert, but Dark Horse also seems to have one of the best connectivity offerings in town. I've rarely been in there (and I'm a frequent flyer at this point) and experienced an extended Wi-Fi outage. In addition to a great work environment, they do offer a number of tasty treats (waffles, breakfast burritos, cookies, etc.) to keep you satiated while you work. 
When it comes to the actual coffee, Drew Taylor (the owner) and his crew always seem to be bringing in new and exotic roasts from Tanzania, Guatemala, Ethiopia, and other far-flung reaches of the world. If I'm not buying my own bulk coffee from the natural foods stores in town (see: New Moon), then I'm definitely buying in bulk from Dark Horse. 
Best For Food: Wild Cherries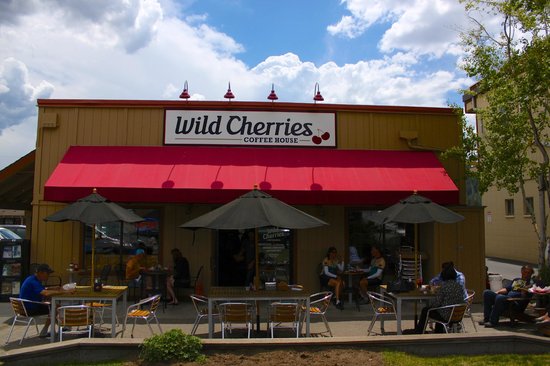 My experience with Wild Cherries goes way back to my days at Truckee High. We used to get 30 minutes to treat ourselves to off-campus lunch and this coffee shop was one of the easiest places to walk from campus. That being said, if you're visiting the town during the school year, be aware that the lunch rush can get pretty hectic here and it's not uncommon for the line to be out the door as the high schoolers flock for their lunch options of choice. 
I think Wild Cherries has the best food options for any coffee shop in Truckee. They have a large menu that includes pastries, smoothies, sandwiches (both for breakfast and lunch), and more. My go-to food choice here in a breakfast sandwich on an everything bagel with egg, bacon, pesto, and avocado. Try it out (unless you have a nut or avocado allergy!). 
I also know plenty of people that work from Wild Cherries, but it isn't my preferred spot for getting work done for a couple of reasons. First, the constant influx of visitors can be a bit distracting when you're trying to focus. Second, I always seem to run into multiple people I know in town when I go to Wild Cherries (it's a personal problem, I know). That is sometimes nice and sometimes counterproductive to the workflow. However, if you're coming into town and need a good breakfast or lunch spot, be sure to give Wild Cherries a try! 
Best For Social Hour: Coffeebar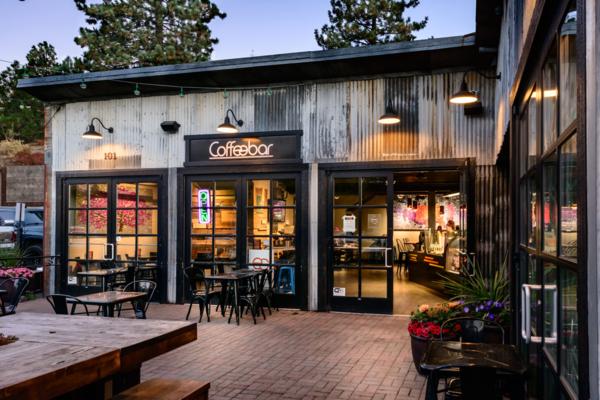 Coffeebar Truckee might be classified as the "most hip" coffee shop in Truckee and it's one of my favorite spots for meetings or getting together with friends to catch up and enjoy a great cup of coffee. Their space has a lot of different seating options, and I actually used to get a lot of productive work done at the high-top tables in the back of the coffee shop. 
Because of its variety of seating options (both indoor and outdoor), Coffeebar Truckee is my pick for the best coffee shop in Truckee for social hour. It's also a great spot to sample vegetarian and vegan food options. And their coffee isn't bad either. They also get extra kudos for staying open later than any other coffee shop in town (7 pm) and they always have a selection of beer and wine options if you're getting together with friends later in the day. 
My number one reason for NOT working at Coffeebar Truckee much these days is that the noise level can be a bit distracting. While I must admit I haven't been in for a short while, the last few times I was there the music was a bit loud for my liking. Combined with the noise from people's conversations, the coffee maker, and the kitchen, I just began to found it hard to stay focused (again, maybe a personal problem, but just trying to be honest about my experience!). 
Best For Minimal Distractions: Tuff Beanz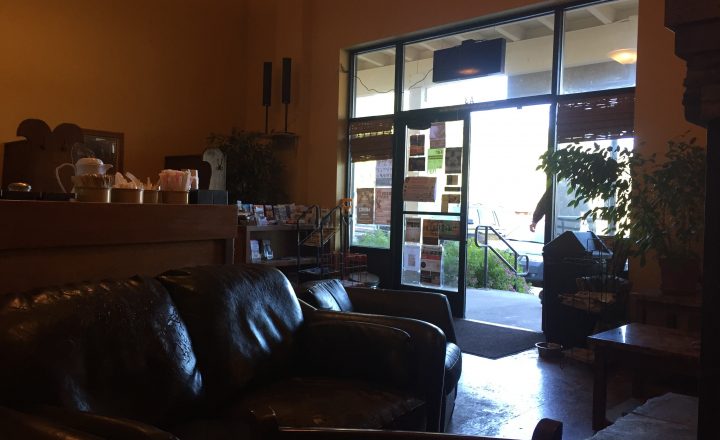 Tuff Beanz is tucked away just outside of Old Town Truckee. It's the kind of place you wouldn't really stumble upon unless you were looking for it, which is why it's my choice for the best coffee shop in Truckee for minimal distractions. They have a couple of comfortable booths on the right side of the shop and a small table if you're getting together with a work colleague to crank out a few hours of work. 
They do offer a small selection of breakfast sandwiches if you get your day started early there and their coffee will get the job done as you're trying to peel your eyes open. I love their booths because they're the kind that have high seat-backs so that you can't see what's going on in the next booth over. It makes it really easy to put the blinders on and really squeeze several productive hours out of your morning! 
Best For A DMV Visit: Zuri Coffee Co.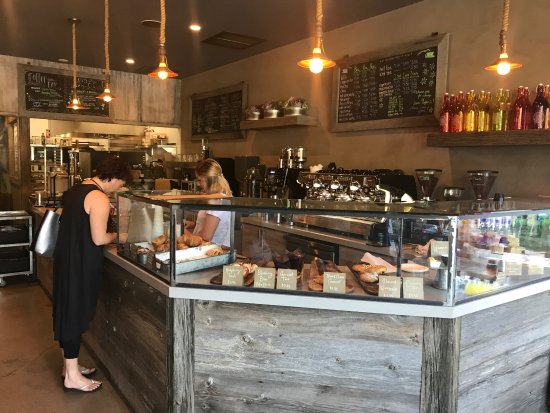 If you're in the new to town and need to get your car registered locally, Zuri Coffee Company is my pick for the best coffee shop in Truckee when you're in need of a DMV visit. It's conveniently located next to our local DMV location. They have great coffee and a solid selection of breakfast and lunch options. And now that the DMV has an external speaker, you can literally hear when you're number is called and it's time to go next door. 
If you hate visiting the DMV as I do, this is a game-changer. Gone are the days when you have to sit inside the DMV and waste time on your phone while waiting to be served. I'm all about efficiency, so if I can check off a few work tasks on my computer while I'm waiting for my number to be called, I'm going to take that opportunity every single time! 
The Slow Life Guides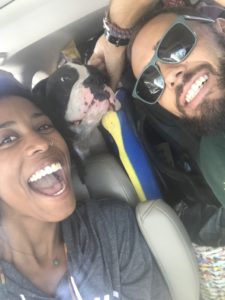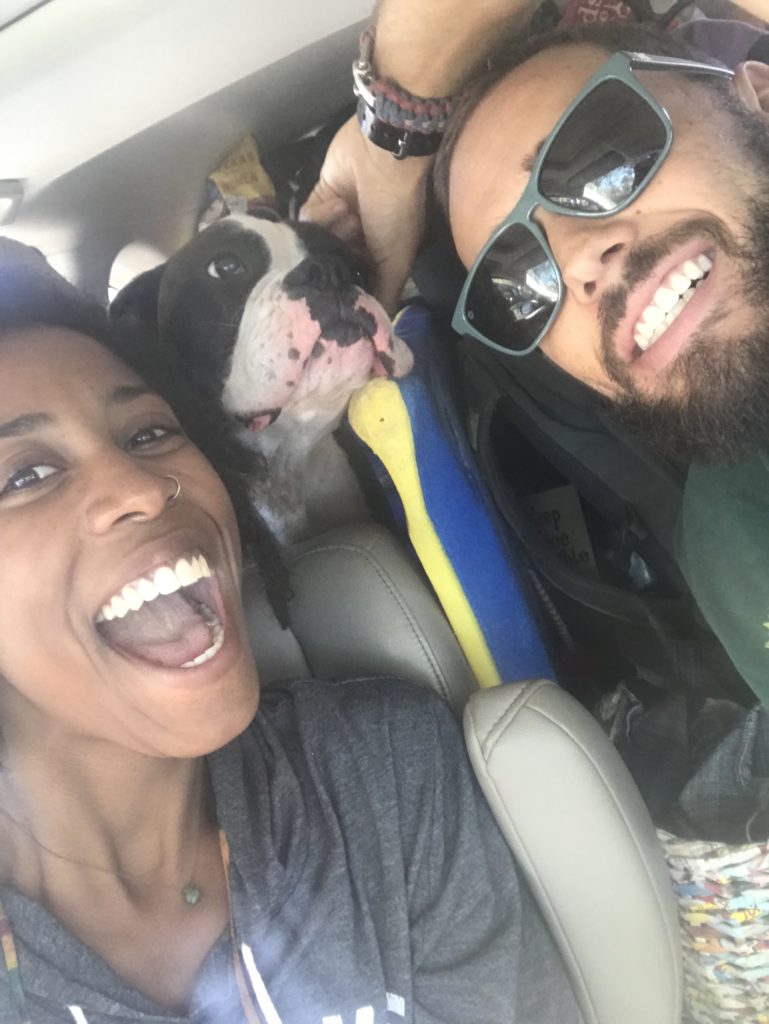 If you're visiting Truckee soon, drop us a quick email for more recommendations on restaurants, bars, places to stay, things to do, or anything else you're interested in!
We would love to connect with anyone along our journeys about collaborations or simply to build new relationships. We believe that we are in a constant process of community building these days because our communities can now cover greater distances (thanks technology!) than ever before.
If you want to get to know us, now you know where to find us and we look forward to hearing from you!